About
---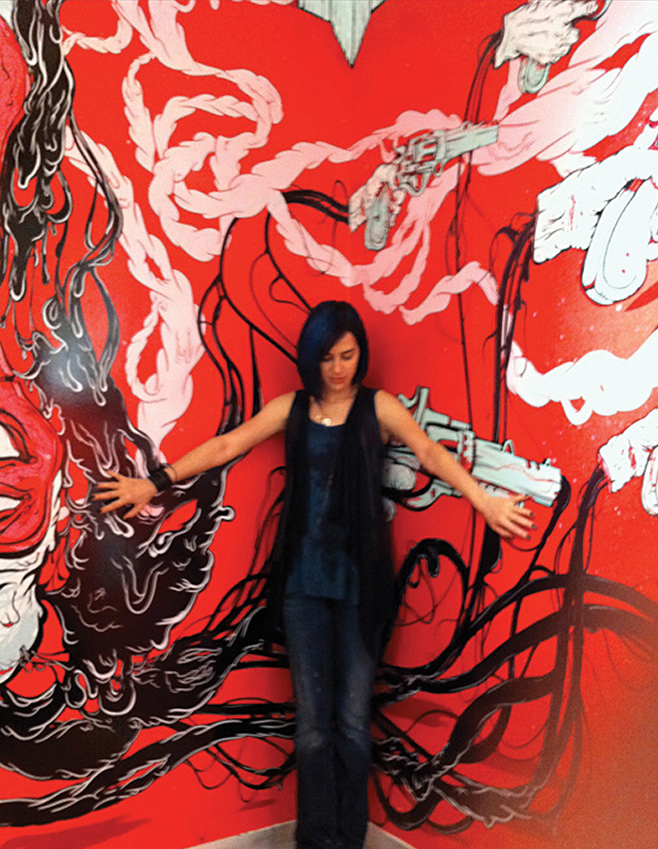 Elif Varol Ergen is a Turkish visual artist and instructor.
  EDUCATION
  1999  Graduate; Hacettepe University Fine Arts Faculty, Graphic Design Department.
  2003  MA; "Development of Comics in Japan and Fareastern Cultures", Hacettepe University.
  2007  PhD Research and internship; The Royal Academy of Fine Arts Hogeschool Gent, Belgium.
  2009  PhD; "Abstract Concepts in Illustrated ChiIdren Books", Hacettepe University.
After graduation for her PhD thesis and artistic studies she researched about underground art and contemporary illustrations in Europe and Japan.  Her art mainly focused on parent-child relationship, sex discrimination, women's rights, feminism and human psychology. The characters in her early works can be outlined as uncanny, spooky and strange infants with pale faces, sharp teeth and shadows. There were heavy dose grotesque in the images, severe form deformations, sagging and melting forms merge and blend with intensive contrasts in red and black.
Her current artworks content is mostly focused on feminism, divine femininity,  mysticism and women's identity.  She illustrates rebel female characters and move away from all kind of definitions and identities of women which has been put by the male dominance. She uses mostly "witch and wicca" metaphors for her rebellion ladies whose behaviours totally against the common thoughts and belief of society. 
She usually uses digital media, digital imaging and CNC-machined productions also sometimes combines traditional media such as acrylic, ink, silkscreening for the artworks.
---
ABOUT ART

SOLO EXHIBITIONS

2012 'Incognito', Zilberman Gallery, Istanbul, Turkey.

LATEST GROUP EXHIBITIONS

2016 "The House of Silence" Curated by Ray Caesar Gallery House, Toronto.

2014  Contra'Turkish Contemporary Art' , Old Truman Brewery, London.

2013   Art13 London, Olympia Grand Hall, London

2013  Contemporary Istanbul 8, Lutfi Kirdar Exhibition Center, Istanbul.

2012  Colorink Book 'We've Got Issues' Exhibition, WWA Gallery, Culver City, CA, USA.

2012  Contemporary Istanbul 7, Lutfi Kirdar Exhibition Center, Istanbul.

2012   'Abu Dabhi Art' Contemporary Art Fair, Abu Dabhi.

2012   'Figure Out' Contemporary Turkish Art, Dubai International Financial Center, Dubai.

2012   Contemporary Istanbul 6, Lutfi Kirdar Exhibition Center, Istanbul.

2012   'Untitled/Original', CDA Projects Gallery, Istanbul.

2011  'Berliner Liste' Art and Photography Fair, Trafo, Berlin.

2011  Istanbul Summer Exhibition, Antrepo 5, Istanbul.

2011  'Art Bosphorus 4',  Istanbul Contemporary Art Fair, Istanbul.

2011   Vernissage of "TR21" Poster Exhibition, Poland.

2010  ' Closed' Contemporary Art Exhibition, Gallery Kara, Ankara, Turkiye.

2010  14. Asian Art Biennial, Shilpakala Academy, Dhaka, Bangladesh.

2010   33. FISAE International Exlibris Competition Exhibition, İMOGA, İstanbul, Turkiye.