---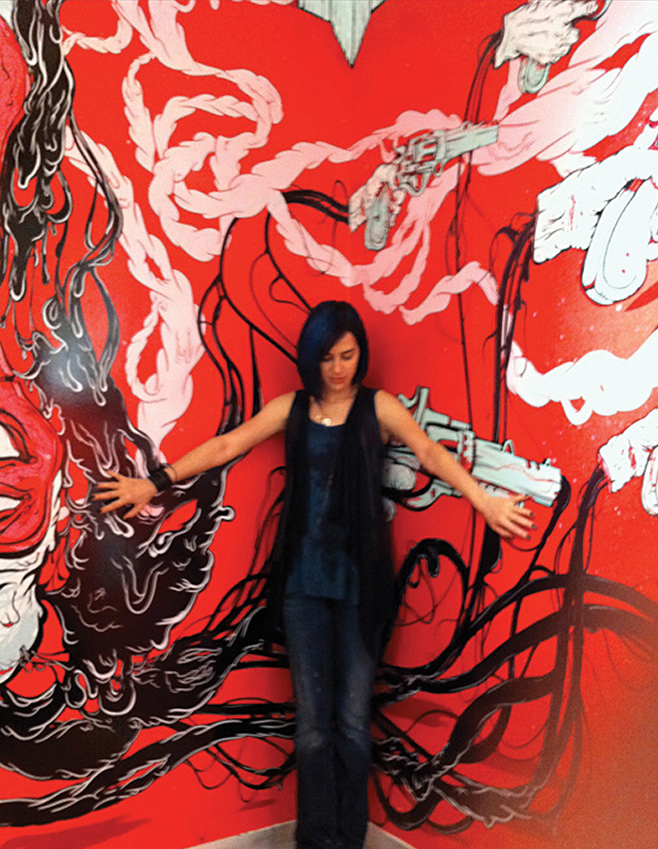 EDUCATION
  1999  Graduate; Hacettepe University Fine Arts Faculty, Graphic Design Department.
  2003  MA; "Development of Comics in Japan and Fareastern Cultures", Hacettepe University.
  2007  PhD Research and internship; The Royal Academy of Fine Arts Hogeschool Gent, Belgium.
  2009  PhD; "Abstract Concepts in Illustrated ChiIdren Books", Hacettepe University.
My artistic area thrives in the fields of illustration, drawing, and graphic design, which I have honed through extensive education and experience. Armed with MA and PhD degrees in underground comics and contemporary illustration, my journey took me on research expeditions to Japan and Belgium. These transformative ventures infused my artistic style with fresh inspiration and a unique perspective.
Throughout my early career, I illustrated the pages of books with my artistic skills. However, upon my return to Turkey, I underwent a metamorphosis triggered by the pressing issues surrounding children's and women's rights. My creative focus shifted to exploring the intricate dynamics of the parent-child relationship, fighting gender discrimination, advocating women's rights, and promoting feminism. The impact of my artistic endeavors has resonated both locally and internationally. My artwork has been exhibited in galleries around the world and recognized in prestigious art journals in the United States, Germany, and Turkey. My first art book was published in November 2017 in New York.
I completed another research project titled "Contemporary Illustration Education" at the Berlin University of the Arts in 2018. This endeavor allowed me to delve deeper into the intricate interplay between art and education. Beyond my role as a lecturer and artist, I'm proud to be the founder of "Axis Mundi", a local brand that combines the fields of clothing and art prints with artistic expression.
---
ABOUT ART
SOLO EXHIBITIONS
2012 'Incognito', Zilberman Gallery, Istanbul, Turkey.

LATEST GROUP EXHIBITIONS

2016 "The House of Silence" Curated by Ray Caesar Gallery House, Toronto.

2014  Contra'Turkish Contemporary Art' , Old Truman Brewery, London.

2013   Art13 London, Olympia Grand Hall, London

2013  Contemporary Istanbul 8, Lutfi Kirdar Exhibition Center, Istanbul.

2012  Colorink Book 'We've Got Issues' Exhibition, WWA Gallery, Culver City, CA, USA.

2012  Contemporary Istanbul 7, Lutfi Kirdar Exhibition Center, Istanbul.

2012   'Abu Dabhi Art' Contemporary Art Fair, Abu Dabhi.

2012   'Figure Out' Contemporary Turkish Art, Dubai International Financial Center, Dubai.

2012   Contemporary Istanbul 6, Lutfi Kirdar Exhibition Center, Istanbul.

2012   'Untitled/Original', CDA Projects Gallery, Istanbul.

2011  'Berliner Liste' Art and Photography Fair, Trafo, Berlin.

2011  Istanbul Summer Exhibition, Antrepo 5, Istanbul.

2011  'Art Bosphorus 4',  Istanbul Contemporary Art Fair, Istanbul.

2011   Vernissage of "TR21" Poster Exhibition, Poland.

2010  ' Closed' Contemporary Art Exhibition, Gallery Kara, Ankara, Turkiye.

2010  14. Asian Art Biennial, Shilpakala Academy, Dhaka, Bangladesh.

2010   33. FISAE International Exlibris Competition Exhibition, İMOGA, İstanbul, Turkiye.